It's not just the holiday season – it's engagement season!  Now through the end of the year is the most popular time of the year to get engaged.  With social media full of engagement proposals that would make Cinderella jealous, it's now more important than ever to step up your proposal game.  So where are the best places in Toledo to get engaged?  Here are some of our favorites your future bride might love!
Getting Engaged at The Toledo Zoo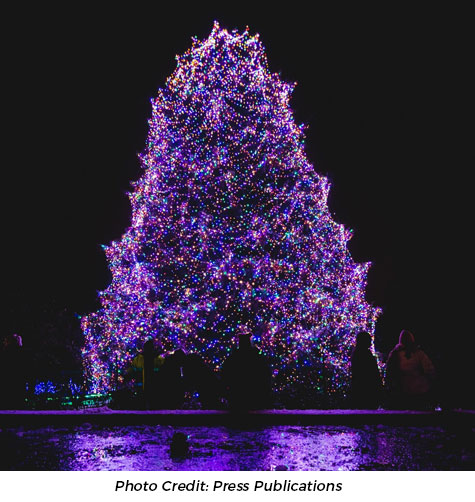 For the animal lover in your life, the Toledo Zoo is a perfect choice, especially this time of year. The Lights Before Christmas offers multiple beautiful backdrops, including the famous Big Tree to get down on one knee in front of. If you'd rather be in a warmer environment, the refurbished Aquarium or the Christmas lights display at the new Museum of Natural History are beautiful spaces that will make the moment really special and unique.
You can also book a private tour where your bride-to-be can get a backstage view of the Zoo's operations, and a chance to get up close with her favorite animals, including an elephant, rhino, octopus, penguin, cheetah, and more.
Popping the Question at Sports Game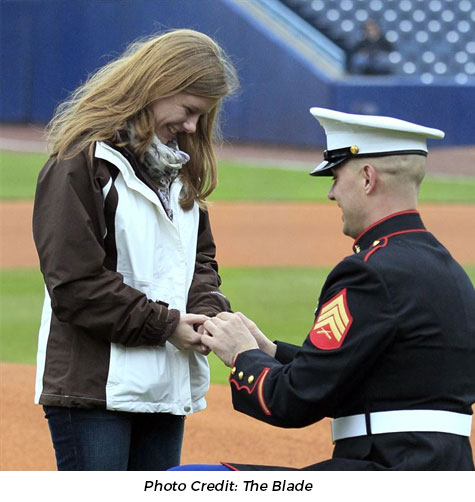 If your bride-to-bride likes sports or events with big crowds, we have a few options in this area. If you met in college, proposing at a UT or BG football and basketball games add a special personal touch. The Toledo Walleye offers special marriage proposal packages that allow you to propose Live on their video board. If you're a little camera shy, they will create a special video board message that will run during the 2nd Intermission.
If you plan on prosing when Toledo Mudhens are playing, they have a few great options too! The most popular way to propose at a Mudhens game is at the conclusion of 'The Kiss Cam' in between innings. You can arrange to be the final featured couple and get down on one knee on their giant video board! If you plan on popping the question at a Mud Hens game let their promotions staff know 3-7 days in advance of the game you'll be attending.
Propose in Front of Her Favorite Artist
If your future fiancé loves art or architecture, consider proposing at The Toledo Museum of Art. Find out who her favorite artist is, and get down on one knee in front of one of their paintings. Or take her for a walk to see the beautiful architecture of the Peristyle, The Glass Pavillion, or outside on the front steps of the main entrance surrounded by the beautiful pillars. In addition to the stunning artwork and architecture, the Museum offers an array of exhibits that create the perfect ambiance for a marriage proposal.
Now until February 9th, 2020, the exhibit Between Light and Shadow includes three gallery-sized installations showing stunning visuals formed by intricate patterns of light and shadow. From December 14th-April 26th 2020, the Fireflies on the Water exhibit is a truly unique experience that uses lights and mirrors to transport you to a space that's visually breathtaking. Wherever you decide to propose at the Museum, it will be a romantic experience your loved one will never forget.
An Award-Winning Romantic Getaway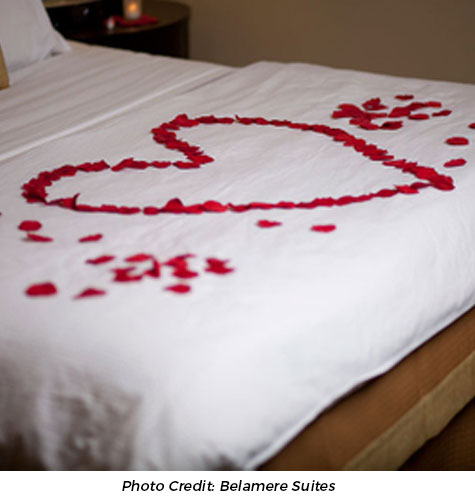 We mentioned the Belamere Suites in our best places to honeymoon article, but this is also a very romantic place to get engaged. With options including the two-story Grand Royal Swimming Pool Suite, the 1000 sq ft Presidential Swimming Pool Suite that features a private heated swimming pool and a whirlpool tub, you are sure to impress your bride-to-be with this one. They offer a package that includes rose petals arranged in a heart shape on your bed, 6 pre-lit candles, and 2 souvenir velour bathrobes.
They also offer 24-hour concierge service, as well as single and couple's massages directly in your room. If you really want to impress your loved one, you can take a private helicopter tour of Toledo, taking off just steps from your suite at the Belamere Suites Hotel. Talk about a romantic getaway right in your back yard!
Take a Walk at the Toledo Metroparks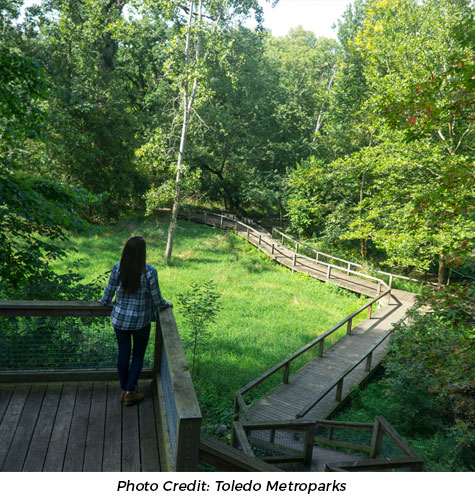 Sometimes you prefer to be alone when popping the big question. You're under enough stress make sure everything goes right and you don't need a big crowd to add to the pressure! The Toledo Metroparks has 12 parks to chose from, and each one has something special to offer. The Manor House at Wildwood is beautiful, especially around the holidays, and the evergreen trees at Oak Openings offers a stunning backdrop for that perfect engagement photo. Take a walk along the Maumee River at Sidecut Metropark, or a bike ride along the miles of trails the Metroparks has to offer.  If you want a truly unique experience, rent one of the beautiful treehouses at the Cannaley Treehouse Village. The Village offers 4 private treehouses you can rent, each with its own theme, located in the middle of Oak Openings. Although the treehouses don't open until Spring 2020, it's never too early to start planning! Whatever park you choose, it's a perfect place to propose if you love nature, or are searching for an intimate moment that's peaceful and serene.
Sail Down the Maumee River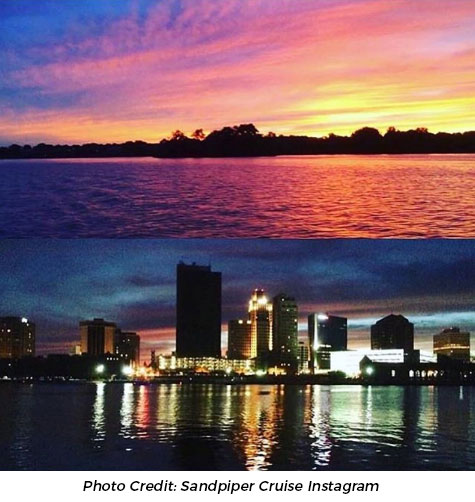 If you love the water, booking a cruise on the Sandpiper may be a fun away to quickly turn a regular party with family and friends into an engagement party! The Sandpiper can fit dozens of people, allowing you to invite all of the special people in your life to celebrate this exciting occasion with you.
You are allowed to bring food, drinks, and decorations, and bring your favorite playlist to truly liven up the party! The Sandpiper cruises up and down the Maumee River with stunning views of the downtown skyline and beautiful sunsets on the water. If you plan it around a Mudhens fireworks night you can create a really special way to end the evening!