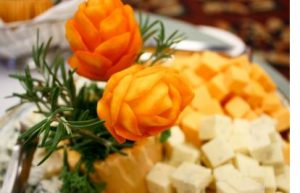 Planning an event takes a lot of work.  From the decorations and invitations to entertainment, there are a lot of boxes to check off.  Whether it's for a business, non-profit, graduation party, wedding, or other type of event, often what takes the most time and money is preparing the food.  While having an event at a facility that also provides food is ideal, sometimes an event must take place outside or at a facility where food isn't served.  Some people see this as an opportunity to cut costs and provide their own food, but often times when they do this they spend more money, more time, and are so busy worrying about the food that they are unable to enjoy the event.  When planning your next big event in Toledo or surrounding areas, here are four reasons why you should consider hiring a professional caterer.
Quality, Variety, Safety
Although nothing quite beats grandma's cooking, there is something to be said about having a professional make your food.  A professional party catering service will work with you to create the perfect menu that is cohesive with the theme of your event.  Professional caterers are able to provide an eclectic menu tailored to your vision.  Because we are an event catering service who consistently creates meals for hundreds of people, we know how much food to provide for any size party, thus eliminating having too much or too little of food.  Another benefit to hiring a party catering service in Toledo is that our kitchen is regularly inspected, so you know that what you are eating is always safe. 
Save Time and Stress
Because you make food for your family consistently, you may feel confident that you can save money by creating our own food for 200 people.  By the time you plan your menu, go shopping, make and package the food, hours spanning multiple days have gone by.  When we try to cater our own event, we spend so much time worrying about the food that we let other aspects fall to the way side and do not allow ourselves to enjoy the event.  Hiring an event caterer in Toledo will save hours of time while eliminating a huge weight of responsibility off of your shoulders.
Make a Statement
When you hire a professional caterer for your wedding or other event, their goal is to provide you with excellent service and ensure your food is presented in a professional way.  They understand the importance of making a lasting impression and strive to cover every last detail so you don't have to.
Skip Clean Up
One of the worst parts about hosting an event is cleaning up.  When you hire a professional cater, they will ensure everything is cleaned, and there's no kitchen or dishes for you to clean!   This allows you to relax and enjoy your event even more.
When planning your next inside or outside event in Toledo, Maumee, Sylvania, and surrounding areas, having a professional handle your food will be more helpful then you realize when the big event arrives! Learn more about our catering services for your next event.