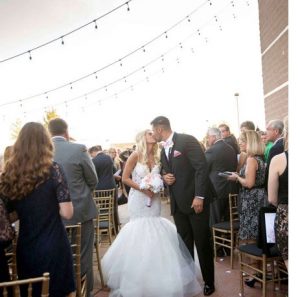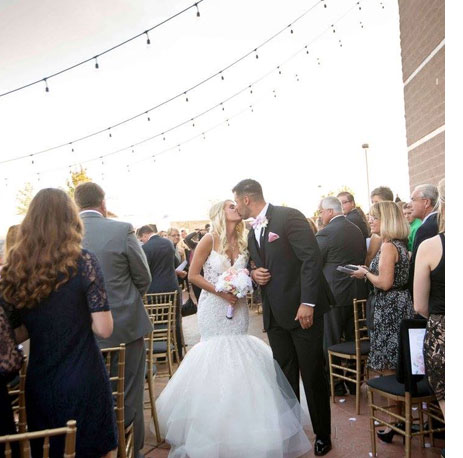 It's our favorite season of the year – wedding season! While some brides are presently stressed with last-minute planning for their spring or summer wedding, some engaged brides-to-be are just getting started.  With each wedding season comes wedding trends, and with brides already planning for next year, it's never too early to talk about what's a "must-have" for your Toledo wedding in 2019.  What's on trend for 2019?  A small wedding across the pond this month may have something to do with it.  Here are some of the 2019 wedding trends Toledo brides are talking about.
Budget for a Toledo Wedding
The average wedding in the United States is over $30,000!  Ohio isn't as bad, with an average budget of only $25,000. The good news is, budgets are slowly decreasing.  That doesn't mean weddings are any less beautiful!  Couples are choosing experiences that are simpler and more connected to their story as a couple than the usual – and more expensive – black tie affair. It is important to have a budget in mind before looking for wedding venues and for other important items like your perfect wedding dress.  And remember, Pintrest makes it easier to have a wedding that's true to who you are on the budget you desire!
Custom Wedding Guest Experiences
According to The Knot, custom guest experiences have more than tripled, with up to 40 percent of newlyweds saying they couldn't resist entertaining their guests in an unconventional way.  Experiences include caricatures, mariachi band, aerialists, salsa or belly dancers, outside games like cornhole, and an ice cream truck. And for as little as $10, you can create your own Snapchat filter your guests can use for your wedding!
A Wedding Dress Fit for a Princess
The Royal Wedding has caused an uproar in bridal trends, months before the ceremony has even taken place. There are wedding dress trends that focus on uniqueness and elegance.  A few examples of 2019 bridal trends include minimalism, colorful hues, bridal jackets, bridal suits, exaggerated volume, and sculptural bows.
Rustic Chic Outdoor Weddings
Having a wedding ceremony or reception outdoors is not anything new, but the style of the wedding is. Many brides are opting for a vintage style weddings in barns, on farms, and even on our terrace. These weddings are often full of DIY decorations that include plenty of wood, burlap, lace, and baby's breath. We have provided wedding catering services for a few of these off-site outdoor weddings, and the attention to detail is second to none.
2019 will be here before we know it, and we are already starting to fill up our wedding calendar.  We even have weddings booked for 2020!  Contact us  about booking your wedding or catering services with us.